"Here's How You Can Easily Turn Any Private Label Ebook Into A Set Of Text Articles, Ready To Be Used As Website Content"





Dear Friend

Do you have lots of private label ebooks sitting on your computer hard drive?

Most marketers have dozens (or even hundreds) of these ebooks - most of which will never get used.

Our new Ebook Slicer software offers you an easy way to make use of these ebooks - by turning the ebooks into a set of text articles.

These text articles can then easily be used as website or blog content - providing a valuable resource for your business.









Easily Turn Any PLR Ebook Into A Set Of Articles
The software is very easy to use.
Before using the software, edit your ebook using any standard editor, such Microsoft Word or OpenOffice Writer.
Insert some special text where you want the ebook split. The software will split the ebook at these points, creating a set of article text files.
When you have inserted the special text in the appropriate places, save the result as a text file.
Now activate the software - and it will instantly split the ebook to create a set of article text files.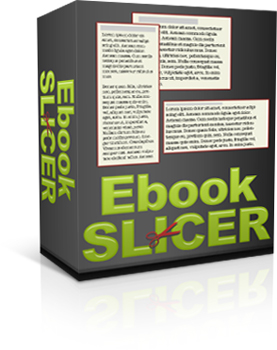 Get Your Copy Now For Just $9.95

You'll receive instant access to your software by Internet download.

Totally secure payment is through Paypal


Requirements: This software is for use only on PCs running Microsoft Windows.